April 2008
To be updated shortly......Honest!!!!
meanwhile, work this one out:
;o) Mark x

10/11/07 - So there you go. Bonfire.2007 has been and gone. Big Love & Big Thanks to all who turned up and made the evening one to remember yet again. The Light Show went without a hitch, the multimedia show went without a hitch. As did the Laser Show.
The fireworks didn't quite go to plan due to the huge deluge at about 8 o'clock, but hey, thanks to some quick thinking by Richard and some surreptitious use of a blow torch, we got them up, and to be fair we've had nothing but good feedback from you so far....
For those of you who are curious to see what went on in the secure area during the year, we've opened it up to the public - it's now the insecure area (sic).
Give us a short while, but there will soon be some video footage up of the evening's events, and in the meantime, we are already making plans for 2008, so keep an eye out for details to start
THE BONFIRE 2007 BLOG AS IT UNFOLDED
09/01/07 - The theme for BF2007 has been agreed and finalised.
23/01/07 - Artillery ordered from Aidlingen, Germany.
03/02/07 - Initial Artillery Tests prove positive. Local Aviation remains unaffected.
-- A small hiatus ensues while Richard's Head is repaired --
20/06/07 - Mark Shift & Richard Bolens meet at an undisclosed location somewhere in Clitheroe to discuss initial preparations and timelines.
21/06/07 - Following yesterday's meeting, the full timeline of the Show has been agreed and music finalised. The BF2007 Logo has been agreed, and the secure website is operational with details of this years event, including the new light rig, and music.
23/06/07 - 50M of American Visco ordered in case availability is low later in the year...
24/06/07 - Collation of music started. Investigations for suitable stock video footage begins.
25/06/07 - Moon Phases checked out for Saturday Nov 10th 2007. There is a New Moon on Friday 9th Nov 2007, so on the 10th the Moon starts to wax, therefore virtually no moonlight on the night - great news!!
Moon Phases for November 2007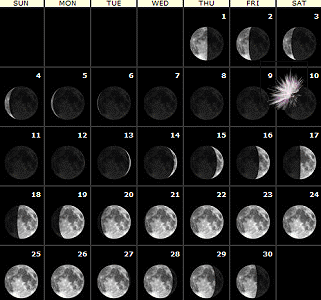 We've ordered another MP-820, giving another 8 channels of midi for controlling the lights. This year, we have 24 midi channels available for light controls. We've accounted for 19 so far, so another 5 can now be added. See the Secure Page (above) for details of the first 15 channels on the new front Light Rig...
26/06/07 - The website has had a complete rebuild.... Finally!!
27/06/07 - Neo Dobson joins Mark & Richard for the second weekly meeting to start ironing out the logistics. Under discussion were Amp & Speaker configuration, The Front Light Rig, scaffolding requirements and Light Channel assignments.
The dimensions of the Light Rig have been checked and finalised. The Light Channel assignments have been discussed and provisionally agreed . The Speaker / Amp configuration has been provisionally agreed pending acquiring 4 more Mackies. Scaffold requirements have been assessed and a "to do" list has been started.
Also, a wasps' nest has been destroyed.
Further details in the insecure area (except about the wasps).
28/06/07 - Information pack and dvd arrives from DEFRA
29/06/07 - The third MP-820 arrives! We now have 24 light channels to control from the timeline - enough to run the front rig with each segment as one channel - again more details in the insecure area
After a terribly impolite email from our ISP regarding bandwidth, we have moved all videos to a huge wobbly dedicated server in the Docklands (in Londinium). This has a cavernous hard drive and vast acres of bandwidth, so pages should load and stream far quicker now. (thankz, greetz & shoutz to Robin Broderz and his pipe).
Off to kill more wasps...
04/07/07 - Into July now and things are starting to move! We've picked up the new scaffold transoms so we have all we need for the front rig. 60M of Visco has been despatched to us and should be here today. Also we've ordered some electric firework ignitors which should be here today as well.
Richard & I wish to personally extend greetings to the Swiss Contingent of Bonfireparty.com, who visited us yesterday evening! HI GUYS :) See you in November.....
06.07.07 - 60M of 1/8th Inch Chinese Visco arrived today. They haven't got any 1/16th inch or American Visco in yet which is a little easier to use, but in case of shortages later, at least we're covered now. If 1/16th comes available later, we'll get some of that too. It's always fun to use in the bath anyway.
The Firework ignitor thing arrived today, but isn't really suitable - it's designed to let one off at a time - not really our style! But the ignitors themselves are quite nice, so we will design a rig of our own that will allow, say 50 fireworks to go off at once. That'll be nice.
We're hoping to go on a field trip in the next week or do to do some location shooting for this year's video sequence. We'll try not to attract the Police this time....
The wasps are pretty much wiped out now.
11/07/07 - At last the 2005 Short Film is up on the 2005 page (and main menu page)
12/07/07 - We've had a field test of the Firework Ignitor Thing, and it was a complete success. We now need to see if wiring a load of them in parallel to a car battery works!!
13/07/07 - Started to replace the Flash videos with WMV files - much smaller, better streaming and better quality.
-- small gap while we have holidays, attend communes etc --
16/09/07 - At last, it begins....Construction starts!!!!!
The scaffold is up, the tech shed has been spruced up, and we're ready to get some serious equipment in there now!!!
Note - the image above has been electronically altered to protect the identities of those concerned....
19/09/07 - The cabling begins, but to begin with, we're manufacturing some more Bulgin Breakout boxes and Bulgin Leads to incorporate the extra MP-820 in the new Front Rig.
Neo has been put in charge of procuring some exhaust pipe to allow us to erect the Front Rig without too much damage to the local environment (ie the lawn!) Power requirements are being calculated to stop Richard from blacking out the entire town (which he managed to do last year with the help of a chainsaw and a 30KV overhead line).
Hopefully we'll be able to test the tracer, which should have dried out now and maybe cause another UFO scare!
22/09/07 - The day of The Box. We've started the wiring from the controllers to the Front Rig and Scaffold. Speaker cabling has started and the projector wiring is done.
And, finally, the programming has started!

29/09/07 - We've now installed over a mile of cable! Nearly half of that is power for the front rig! A lot of the finer detail is being done now, but we still have more cabling to do.
Neo is becoming more and more obsessed with The Box. We may have to use sedatives...
02/10/07 - For those privileged enough, we now have a gallery going on in the insecure area. Check it out to see just what's been happening in Clithero....
09/10/07 - Another weekend of construction sees the verticals for the front rig going in and more cabling! The Bulgin Breakouts have been installed in The Box, much to Neo's excitement and wiring for the rear light effects has begun.
Check out the bottom of the main insecure area page for a schematic of the rear effects wiring.
The Light Sequence for the Main Fireworks show has been finished. The next job is the lights for the lead-up sequence and video editing.......
10/10/07 - Light Sequence finished for the bit that starts with a "B" and an "F". Light Sequence is started for the bit by something that begins with "G". Video next.......
The long thing that begins with an "F" has arrived, and is due to be chopped up tomorrow. The thing that begins with an "R" has been strung up in a thing that begins with a "T" and connected to the thing that begins with 3 "B"s, with perhaps a hyphenated "O" as well. Construction of the thing that begins with a "B" starts tomorrow to let it do something that begins with a "D". We are also collecting some things that begin with an "S" and "B" tomorrow for the thing that begins with "F" (see above).
I cut the lawn tonight. Now there's a first for the lead up to Bonfire Night.....
Check out the Gallery in the insecure area - many more pics from last week....particularly of the thing that begins with an "R".
12/10/07 - And The Picture Of The Week is....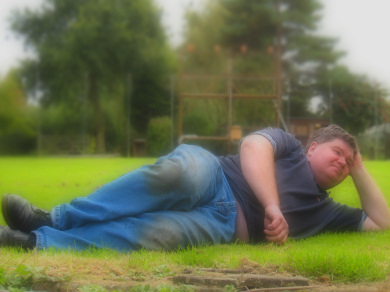 ooOOoo NEO IN REPOSE ooOOoo
30/10/07 - 10 days to go and we're getting frantic now - Preparations are in their final stages now: The Front Rig is complete and tested, the light sequencing has been completed. The music is mixed and almost ready and video sequences are in final editing.
BIG BIG thanks to Steve at Risk Services for sorting the Liability Insurance.
The Gallery in the insecure area has been updated with yet more pics of the proceedings, along with a lovely picture of Neo's arse, and there are 3 videos up there which form part of the Third Set.
We've had a test of the Tracer, and that seems to have survived another year intact, so we're definately up for another UFO scare this year!
Neo is still excited about The Box, but not as much as he is about helicopters.
So far, the long term weather forecast is looking good, but let's not tempt fate too much........
01/11/07 - Oh Shit. It's November. Where did that come from!!
The Fireworks are now ordered and on their way. We have a slight problem with the smokes, but we will prevail!!!
We've tested and installed the rig for the device from Aidlingen, Germany, and it all works, so that's now a go-er.
Check the insecure area for the new video - this is the intro to the feature presentation.........
08/11/07 - 2 days and counting. We now have a fully working version of the entire show on DVD and hard disc. The Bonfire PC has been checked out and updated (it's been dormant for 2 years). The final preps are underway, and we now have a very busy 2 days to get everything set to go on Saturday evening.
We've got tons of fireworks, tons of smoke grenades, and tons of Boddingtons.
We had a full dry run last night, and all went to plan. A small electrical hitch with part of the show, but nothing a large hammer and a bit of gentle coaxing won't fix.......
The Crew's ID Cards are made, check out the insecure area for a sneak preview :)
09/11/07 -
Remember, remember the Tenth of November,

The Gunpowder Treason and Plot,

I know of no reason

Why Gunpowder Treason

Should ever be forgot.

Guy Fawkes, Guy Fawkes, t'was his intent

To blow up King and Parli'ment.

Three-score barrels of powder below

To prove old England's overthrow;

By God's providence he was catch'd

With a dark lantern and burning match.

Holloa boys, holloa boys, let the bells ring.

Holloa boys, holloa boys, God save the King!

A penny loaf to feed the Pope

A farthing o' cheese to choke him.

A pint of beer to rinse it down.

A faggot of sticks to burn him.

Burn him in a tub of tar.

Burn him like a blazing star.

Burn his body from his head.

Then we'll say ol' Pope is dead.

Hip hip hoorah!

Hip hip hoorah hoorah!
BIG BIG THANKS TO
Chris at Smithfield Electronics, for once again coming to our rescue with more speakers, more mixers and of course the Griven Tracer!
www.smithfieldelectronics.co.uk

oOo
Steve at Risk Services Ltd for doing a FANTASTIC deal on the Liability Insurance for us.
oOo
Raj at Newsbox Fireworks - these guys ROCK. Use them.
oOo
Ben at Pea Soup - Genuinely a great bloke to deal with, and the smoke worked a treat with the Laser.
oOo
And finally ... BIG LOVE and BIG THANKS to
Margaret & Sarah Bolens
without whom....... xxx